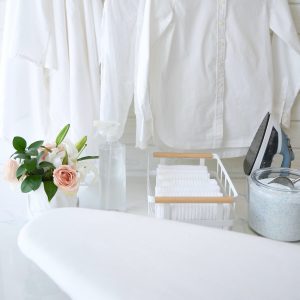 It's that time of year already – back to school! Lunchboxes, backpacks and school papers start to fill your kitchen as you race around every morning to get your kids (and you) out the door. We've come up with some tips for making your back to school experience a little easier and help you save some precious time:
Have your kids pick out their clothes for the week on Sunday. This will prevent any morning fights about what to wear!
Have your kids take baths and showers at night to save previous time in the morning.
Pre-pack lunches a week at a time. Set up your fridge with bins of grab-and-go items that they can pick themselves like juice boxes and water bottles, snacks and easy sandwich/main course items. This helps them be involved with packing their own lunch (and then someday soon they will be able to do it all by themselves!).
Do your kids attend private school and wear school uniforms? Iron them the night before or the whole weeks' worth of uniforms on the weekend. Our RITZ® Ironing Board Covers and Pads make ironing quick and easy.
Prep family dinners ahead of time so that you will always have something ready to eat for dinner on busy nights. Throw chicken and veggies in a big freezer bag for a quick sheet pan dinner, prep crockpot meal ingredients (beef stew, casseroles, homemade soups, etc.), or make a big quantity or rice or pasta that you can add as the base of your meals throughout the week.
Set phone calendar reminders to remember appointments, work meetings, school pick-up times, after-school activities and more. This way you'll never miss something again. A large family calendar in your kitchen or entryway can also help keep everyone on track with their schedule for the week and month.
Follow these easy tips and you'll be ready to face the new school year ahead!