Join the RITZ Family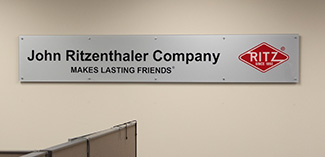 Looking for a new opportunity? Learn more about the current job openings we have available here at John Ritzenthaler Company.
Questions? Reach Out!
Product & Marketing Assistant-Institutional Products Division
The Product & Marketing Assistant will have a critical role in supporting the Institutional Products Division marketing team. The ideal candidate must have superior organizational skills and be able to manage multiple tasks and responsibilities.
Job Type: Full-time
Key Support Responsibilities:
Assist Marketing Manager with important product development projects
Update and maintain the division's comprehensive products "SPEC" database
Run, analyze and communicate results of detailed product monthly sales reports
Take responsibility and lead for all tasks related to customer private label packaging requests
Review all published product claims and capabilities and recommend changes where necessary
Analyze competitive product claims and make recommendations for action
Provide comprehensive information/data to the item set up team
Maintain the division's competitive product cross-reference data for marketing and sales reviews
Responsible for all incoming product complaints and follow up for resolution
Maintain all dealer/distributor customized e-commerce databases
Assist Customer Service group on requests for detailed product questions and capabilities
Essential Skills:
Ability to multi-task and work in a fast-paced environment
Ability to work independently with minimal supervision and as part of a team
Intermediate to advanced proficiency in MS Office product & Auto Quotes
Strong communication skills; both oral and written
Ability to develop strong relationship building skills with customers
Foster positive working relationships and communications with departmental personnel, IT, Purchasing, Sourcing, Sales, Marketing, Customer Service and other JRC departments
Strong organizational skills
Flexible in schedule to enable the company to meet customer needs
Spot increasing/decreasing volume trends
Excellent presentation and selling skills
Attention to detail
Excellent customer service/sales attitude
Critical thinking and problem solving
Basic working knowledge of the foodservice industry: Dealer/Distributor Networks & supplier perspective
Ability to review, proof and recommend changes for packaging drawings on both JRC and private branded products
Ideal Qualifications:
4-year college degree (Preferred)
3-4 years of foodservice industry experience preferably in smallwares
Solid writing and verbal communication skills
Organizational and MS Office Products skills
If interested, please send your resume to: c.albany@johnritz.com