Join the RITZ Family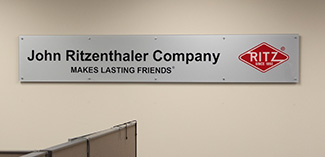 Looking for a new opportunity? Learn more about the current job openings we have available here at John Ritzenthaler Company.
Questions? Reach Out!
Administrative Assistant in the Sourcing Department
John Ritzenthaler Company, an innovative leader in the Kitchen Textile industry, is seeking an energetic, new to the work force, self-starter to work as an Associate in our Product Sourcing Department in our West Conshohocken, PA office. This position involves supporting the Sourcing Department, which is responsible for global sourcing of our products.
Duties Include
Daily communication with international vendors, via email — following up on sample statuses, tracking packages, communicating new projects and specifications
Keeping sample timelines — tracking sample due dates/deadlines for Sales and following up on statuses, maintaining schedule for incoming and outgoing packages
Communication between internal departments, including discussion projects with Design, Marketing, and Sales, making sure all information is correct and that the manufacturer has all information needed.
You must be extremely detail oriented and very organized. This position involves specific procedures, formats/instructions, and specifications.
Must be able to handle multiple projects at one time.
Candidate must have excellent written and verbal communication skills, multi-tasking abilities, and great organizational skills.
Proficiency in Microsoft Office is required, especially Outlook, Word, and Excel.
We offer a comprehensive benefits package.
Job Type: Full-time
*Please Note: This position has been filled.