Mother's Day is just around the corner and you may be wondering what to give mom for the occasion.
Don't worry! We've come up with a handmade craft that you can whip together with the kids in no time to show mom that they will always give her "A Helping Hand". And what better way to let mom know that she is loved and appreciated than by giving her a homemade gift! She will love getting something that her kids put time and love into and it will mean so much more than a gift that is store-bought. Moms do so much for everyone and should be celebrated!
The following printable gift tag craft is very easy to do and only requires a few craft supplies and the purchase of a RITZ® Oven Mitt.
Supplies You'll Need:
1. A printer & paper (cardstock paper recommended)
2. Finger paint (any color you choose!)
3. Scissors
4. A hole punch
5. Ribbon or twine (choose a coordinating color to your oven mitt or a neutral)
6. 1 RITZ® Oven Mitt
Instructions:
1. Print out the RITZ® Mother's Day Printable Gift Tag PDF.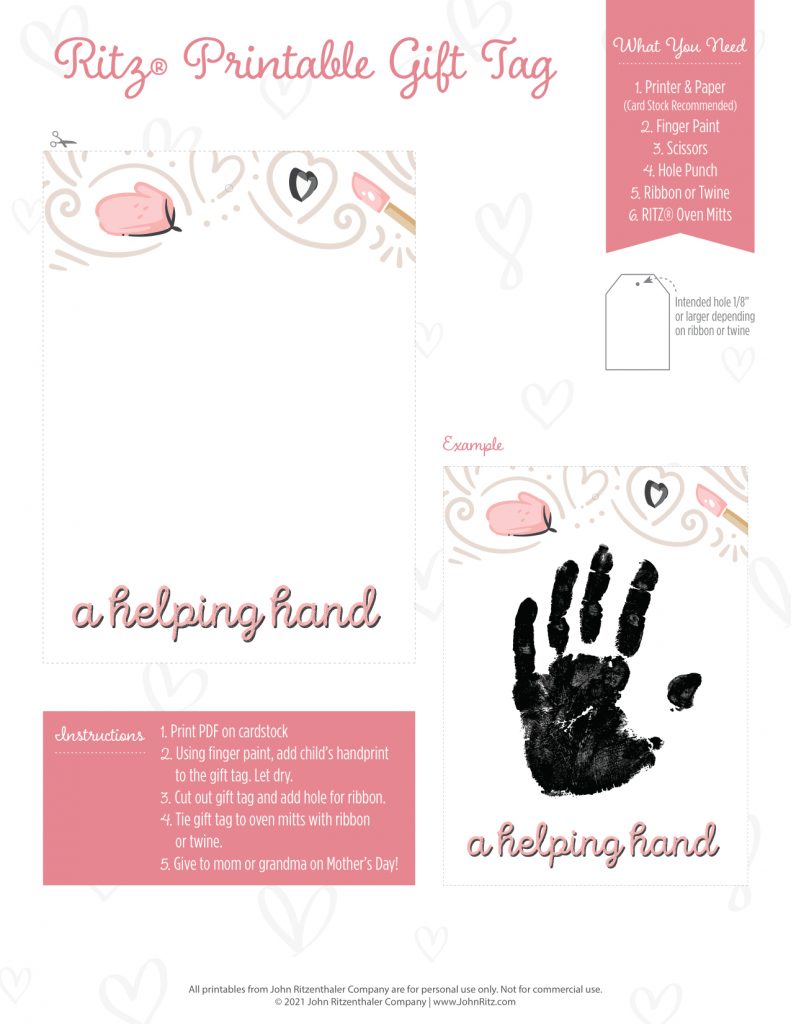 2. Using the finger paint, add the child's handprint to the gift tag. Let it fully dry.
3. Cut out the gift tag and add a hole with the hole punch for the ribbon/twine.
4. Tie gift tag to the oven mitts with ribbon/twine.
5. Give to mom or grandma on Mother's Day and see them smile!
Some oven mitt selections that are available on Amazon:
We hope the special mom or grandmother in your life loves receiving this special Mother's Day "A Helping Hand" gift just as much as you and your kids loved making them!